Cool Stuff of 2004
2004 was a year of cool stuff. Kitsch, mullah-saving, labour-aiding, hi-tec, tasty, cool stuff. It was either a gift to me, a gift to others or just something found.

1. Broadway Cinema Screencard.
This is a passport to the local independent cinema, given to me as a gift from the GB Beach Ultimate Women's team for organising their entry into WCBU Portugal 2004. It rocks.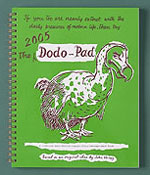 2. Dodo-Pad.
My Mum now knows what to buy me every Christmas to keep me organised throughout the year. It is the handiest diary, planner and doodle-jotter known to man. Lando C also supported my 2004 Dodo-Pad with a cool Dodo-Travel Journal to take to Arizona. Your dates have never been so beautifully illustrated.
3. Coasters made from recycled 78's.
This has been one of the coolest gifts ever and given to me by my Mum's friend. Taken from the centres of old 78 vinyl records, coffee-tables across the land are now protected from ringmarks thanks to Perry Como. The vintage HMV record label artwork is inspiring.

4. Technicolour Thailand Bag.
Dad bought this back from Thailand for me. I love the colours and the size is perfect for purses, Dodo-Pads, mobile phones, keys etc,. It makes me feel like an Indie-Disco Kid again.

5. The Bees Mug.
Lando C bought this for me from the Bees gig. The art is cool and it holds tea fantastically.

6. Russian Caviar.
Lando C bought this back from a business trip to St. Petersburg. The blue pot contained Beluga Caviar and the beautifully decorated pot contained Salmon Roe. I love the way Caviar pops in your mouth. It also goes great with vodka.

7. CF Card Reader.
This came free with our new flash card and it makes taking digital pictures really versatile.

8. Rainbow Crystal
This present (from my Mum's friend again) is cosmic. Stick it to a sunny window and the solar energy propels rays of rainbow sunlight around the room. It makes me feel like a hippy man.

9. Russian Dolls
Lando C bought these back from Russia. I have always wanted Russian Dolls since I was a child. The have a smell that reminds me of primary school.

10. South Devon Dried Chillies - Ring of Fire
I bought these for Lando C for Christmas along with some Chilli Chocolate, Chipotle Chillies (Smoked Jalapenos) and hot sauce. We have tried the Ring of Fire and it nearly took my fingers off just handling it, even though it is dried.

11. DAB Digital Radio
Thanks to this, I can now listen to BBC 6Music all over the house.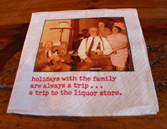 12. Kitsch Napkins
These made a great accompaniment to the Boxing Day seafood fondue that Lando C and I put on for my family this Christmas.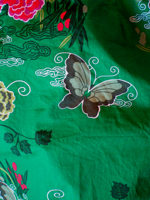 13. Bright Green Skirt
I love this skirt. It is so bright that it makes you feel alive. I bought it from an independent shop in Hockley and it was a bargain!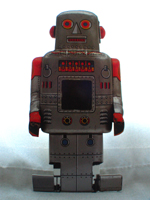 14. IRobot Postcard
A customer sent this to me asking that I give him a good home. There's a store in Hockley that sells these old-style made-in-Tawain-last-week tin robots but they are super expensive, especially if they have a box.