Transformers - Automobiles in Disguise
I've been investigating the possibilities for Lando C and I in Vegas. Did I mention I am going to Vegas? Huzzah! Stumbled across
Kitsch Tour USA
which is apparently not all Kitsch as "One cannot live by kitsch alone."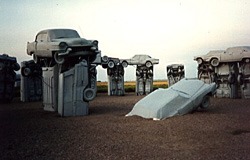 Carhenge
, Nebraska would certainly be on my list of places to visit although Frank gives quite a stern tourist warning about Sydney.
I would love to visit
Nebraska
since I've been listening to the
Bruce Springsteen
state titled
album
. This is possibly the most moving and spirited recordings I've ever listened to. The unusual part of the project is that it was recorded in his own home in 1981 on a 4-track recorder, with only an acoustic or electric guitar, harmonica and vocals. You can even hear the cars drive by outside. Although I'm inherently against vandalising classic recordings, track 6. State Trooper is just asking for a sympathetic remix.
That reminds me. I must give that
Virtual DJ
software another go - a heap of fun.
Carhenge reminded me of my favourite advertisement at the moment featuring a dance-master transformer robot
Citroen C4
. Even Napoleon couldn't bust those D-Kwon Dance Moves.
Back to the trip. We've nailed down
Penn and Teller
in Vegas that's for sure. Sadly Seinfeld won't be showing up until June. Hopefully we can catch him if and when he gets here. I am sure he'll be wanting to see us.